In addition to our collections for food and personal care items at Saint Mary's Food Cupboard in Chester, we support other collection drives during the year.  As needs are identified, we have conducted special collection drives to meet specific needs or situations.
2019 Delivery of school supplies
School supplies for the students in the Chester schools: Annually we have collected school supplies such as paper, notebooks, pencils, pens, binders, art supplies, etc. as well as  backpacks for the children attending Chester schools.  As the needs are identified the supplies are distributed through one of our Chester partners such as Chester Eastside.
Annual Thanksgiving Food Drive: Each Autumn, we collect turkeys and other food items for Chester residents in need. We partner with Chester Eastside for distribution of a traditional Thanksgiving meal.  We also offer additional financial support at Thanksgiving for Saint Mary's Food Pantry to ensure their participants are served.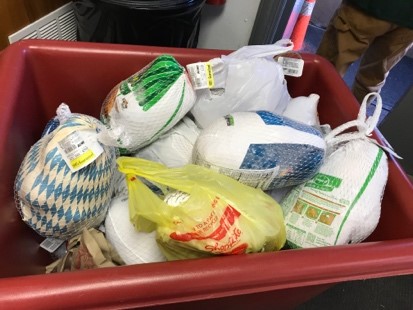 Christmas Collection: Be an ANGEL to a child in Chester.
Each November, our Angle Tree goes up in the Parish Hall with gift suggestions for children in Chester. We ask parishioners to take a tag or two and make Christmas merry and bright for the children and teenagers of Chester Eastside.