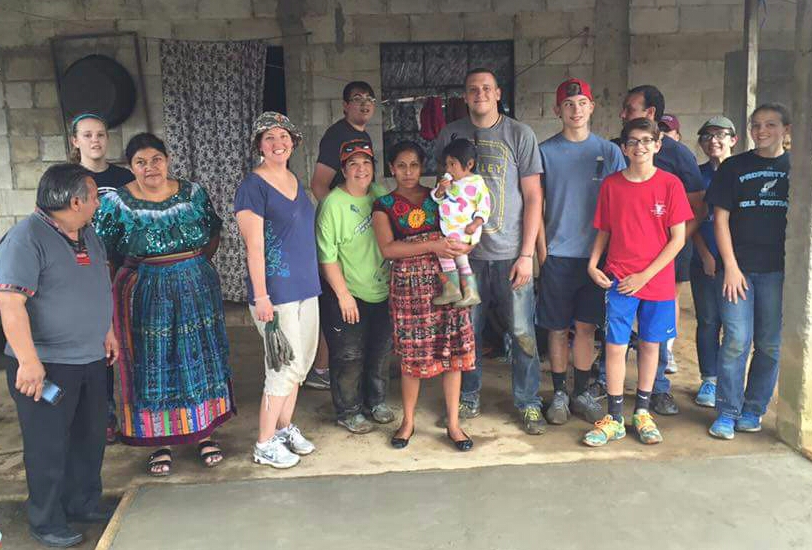 Saint John's parish has for a number of years supported the Guatemalan Companion Diocese committee of the Episcopal Diocese of Pennsylvania.  We have partnered with a few churches in Guatemala as the Bishop of Guatemala recommended.   For the past 10 years, we have been primarily involved with an Episcopal Church in the town of San Andreas Itzapa which is approximately 35 miles from Guatemala City.  We support the congregation by providing monthly rent  which enables the parish to rent a facility that enhances the mission of the community church.  Our support enables the parish priest, Padre Miguel, and his congregation to have a worship space and a usable area to provide for a children's after-school program, to sponsor women's groups and regular bible study groups thereby meeting some of the spiritual needs of the congregation and the community.
St John's mission team at the new floor they poured at a home in San Andres, Guatemala.
Additionally, as the needs became apparent, we have provided school supplies, dental supplies, medical supplies, computers, water filters and met other material needs as requested.
Our involvement in Guatemala not only provides material resources but we have had the opportunity to develop mutual relationships that shows are personal support for their spiritual journeys.  The people we have come in contact with have been warm, welcoming and grateful for our presence not because of the material resources we can provide but because of our personal support of them.
At Saint John's we do plan regular visits to Guatemala to continue and maintain our on-going relationship with the people of San Andreas.  Our youth of the parish have been involved and traveled to Guatemala to not only work on requested projects but to interact with their youth groups.  Our most recent youth trip was in 2016.  We do plan to continue our mission work with the diocese of Guatemala in the near future.