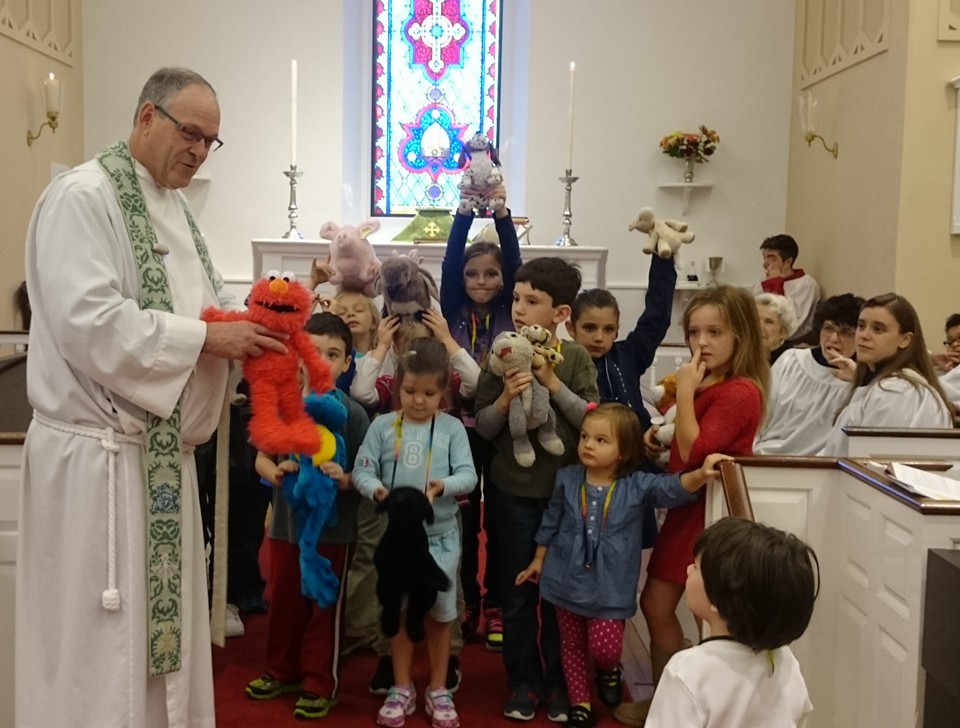 Saint John's  Sunday School
Rally Day and Sunday School Registration is September 17, 2017. Classes Begin September 24 at 10:15, after the 9:15 family service
Our Theme this year is "Answering God's Call"
We begin in the Old Testament by learning about Moses with the burning bush and how he led his people out of bondage with the parting of the Red Sea. We continue with stories about Samuel, Gideon, David, Abigail, and Elijah, and Jeremiah.
Children will explore these great stories of the Old Testament through story-telling, games, crafts, and interactive play. Our dedicated Sunday School rooms have been decorated with pictures and scenes from these stories of these faithful men and women who answered God's call to them.
Our mission is to educate our children in the Christian faith and in the life of this community, providing a firm foundation of faith for our children throughout their lives.
Our vision is to guide our children in discovering the stories of the Bible and applying the lessons we learn to daily life.
We will provide opportunities for:
Fellowship – provide positive interaction that provides encouragement and support
Service – promote opportunities to serve God and minister to others
Outreach – equip and motivate teachers and children to reach people for Christ and incorporate them into the life of the Church
Our Goals:
Study the stories of the Bible in an age appropriate setting
Meet the basic life needs of our children- spiritually, socially, emotionally, etc.
Actively involve our children in Bible study and Sunday School
Provide teacher training in practical ways to guide and motivate children in the learning process
We hope that you and your children will come to St. John's and worship with us. Sept. 17th is Rally Sunday and after the 9:15 service, we will have games for the children in the playground and information and signups for our church ministries. On September 24th, Sunday School will begin after Eucharist at the 9:15 Service and will end at 10:55 AM.
If you have any questions, please feel free to contact us at any time!
Margie Hatcher and Martha Pearlman – 2017-2018 – Sunday School Directors
Need more info? Please call Martha Pearlman at 610-299-5342.
2017 Fall Sunday School Schedule
9/17 – Rally Sunday – We will have a Sunday School table so that you can register your children or confirm information from last year. Games and activities will be outside on the playground and classrooms will be open for you and your children to meet our teachers!
9/24 – Moses and the Burning Bush
10/1 – Moses Frees His People
*10/1 – Blessing of the stuffed animals at the 9:15 Service
10/8 – The 10 Commandments
10/15 – Gideon
10/22– Samuel Answers God's Call
*10/27 – Friday night Halloween Party! – 6:00-8:00 PM. All children ages 3-10 are welcome to join us for games, hay rides, pizza, etc.
10/29 – David and Goliath
11/5 – Abigail
11/12 Elijah
11/19 – Jeremiah
11/26 – Thanksgiving Activities in all classes
12/3 – Advent I – no Sunday School– Pancake Breakfast in Parish Hall between the 3 services.
12/10 – Advent II – Elizabeth
*12/10 Family Christmas Party in the Parish Hall from 5:30-7:00 PM. Children will have pizza and games downstairs from 5:30-6:30 PM and then join us upstairs for the singing of carols!
12/17 – Advent III – Mary and Joseph
12/24 -No Sunday School -8 AM service only, followed by 4 Advent services in the afternoon and evening
12/31 – no Sunday School – 2 service Sunday with 8:00 and 10:00 am.
1/7 – Sunday School resumes with the Three Wise Men.