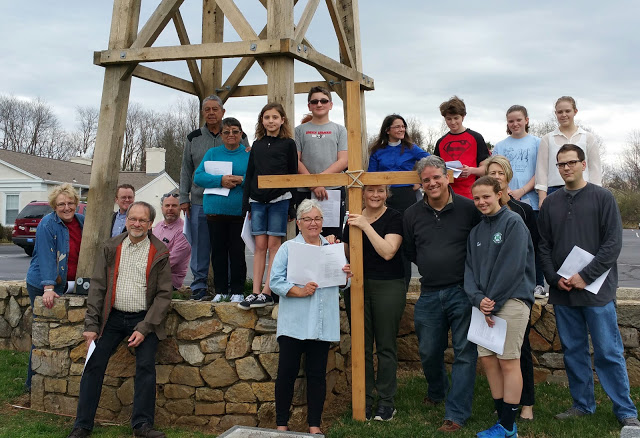 Worship at Saint John's
Welcome to Saint John's, Concord! Worship is at the heart of all we do at Saint John's.  We have been worshiping at this place for 315 years, and we have a sense that we are part of something much bigger than ourselves. The early settlers in "Concord" began holding worship in 1697 in the home of John and Margary Hannun, a quarter mile up the hill, and in 1702 they built a log cabin, the first church, 200 yards from the current building. In 1707, the church was stable enough that Queen Anne gave us a pewter chalice and patten for Holy Communion, inscribed "Concord Church."  After adding on to the log cabin twice, in 1844 we built the current church and we've been worshiping here ever since.
Our Current worship schedule is crafted for two large seasons: Summer and Program Year. Each Season has its own schedule, and after some adjusting it works for the ebb and flow of the life of the People of Saint John's. For example, we have fewer worship services in the summer because about one third less people attend church in the summer. And the two service schedule is more relaxed, fitting the practice most of us have to hoping for some re-creation of our lives during the summer time. We hope that you, the reader of this article, will find God here, come to know Jesus here, find spiritual fulfillment here at Saint John's Church, Concord.
Our 8:00 a.m. Eucharist is a traditional Rite 1 liturgy focusing on the spoken word
and the quiet contemplation of how the Holy Spirit moves us and guides us in our daily
lives.
Our 9:15 a.m. Eucharist is a family oriented Rite II liturgy with a mix of contemporary
and traditional music styles. A Children's Chapel during sermon time is a special feature
that gives parents their own spiritual time.
Our 11:00 a.m. Eucharist is a more traditional Rite II liturgy full of music and song.
This service features a full choir, congregational singing and inspirational preaching.
We hope that you are spiritually nourished here at Saint John's, Please see one of the clergy or a parish leader if you need help making our way at Saint John's.